Restoration - St Georges Church, Hardwicke Place, Dublin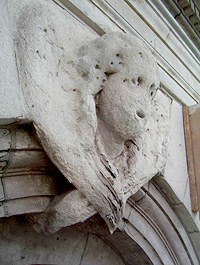 Many of our heritage buildings are at risk and substantial investment is needed to breathe new life into them. Restoration that both recovers a building's past and allows it to be used commercially in the present provides an important option for the conservation of historic buildings, and can play a role in tandem with state-funded restorations by delivering financial returns on heritage investment.

One such restoration is St Georges Church, Hardwicke Place, which had seen many uses since its deconsecration and became structurally unsafe in 2002. It was bought in 2004 by Eugene O'Connor with the aim of restoring it and making it commercially viable without compromising its historical integrity (read more).
This was made possible through the construction of a 'building within a building' - a removable shell that floats within the church space without interfering with the building's integrity.
My task was to restore Edward Smyth's carved work on the steeple. I restored a severely eroded angel head, the oakleaf swag ornaments around the clock faces and the Ionic and Corinthian column capitals. The oakleaf swag ornaments were severely eroded, but just enough remained to continue from the existing work. To produce a faithful restoration, I worked from some of the undamaged sections, and researched archives and similar work by Smyth.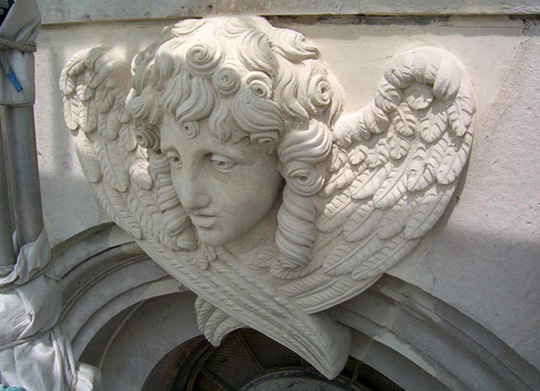 Today, St George's is both a fine historic landmark and a modern office space - an example of how cultural and commercial investment can work together.
Main Contractor: Rainey
Architect: Jim O'Connor and Associates