Public Art - Cowlersley Sofa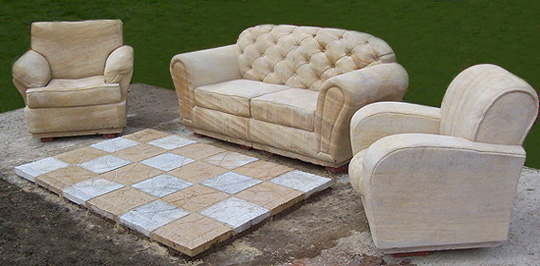 This project started with a need to provide municipal seating for the Cowlersley Estate outside Huddersfield, West Yorkshire. Open Art sought to develop something innovative and expressive with the local community.
Working with Kate Genever, lead community artist, we knocked on doors around the community, asking 'what is your favourite seat?' and 'where are you most comfortable?' The humble sofa emerged as the centre of the action in the household, the hub of comfort, and a status symbol for many.
I was commissioned to carve a sofa and armchairs to be placed next to a sports pitch. A matching rug was created through stone carving workshops with local adults and children. The whole process allowed local flavour, flair and hidden talent to emerge, reinforcing the distinctiveness and identity of the local community.