Public Art - The Braid Museum and Arts Complex, Ballymena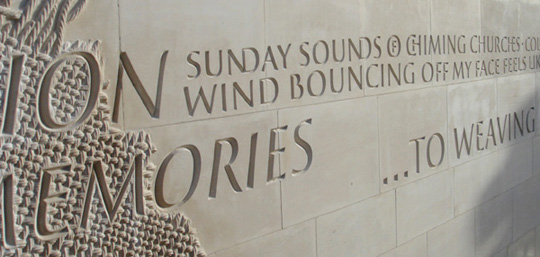 This 11-metre long relief carving was commissioned by Ballymena Borough Council for the outside of The Braid Museum and Arts Complex, Co. Antrim.
Lettering is a very strong architectural element, and it played an inspiring role in the project. Research into the local area revealed that the written word was an appropriate way to express its history and culture.
Using the work of the Bard of Dunclug (a 19th century weaver poet who expressed ordinary perspectives in the local dialect) as a starting point, and with the help of poet Chelly McLear, I explored the locals' views of their town, encouraging them to give voice to their feelings about, and aspirations for, their city.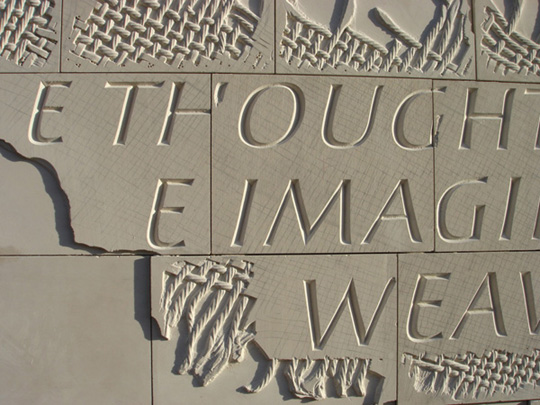 The resulting rich, lyrical words were then carved onto the outside wall of the new Arts Centre, along Linehall Street.
The lettering is deliberately sited quite low down on the wall; it doesn't dictate or make grand statements: it simply says what people think of their own place and what some of their aspirations are. Passers-by can run a hand along the lettering as they walk down Linenhall Street and experience the words visually, imaginatively and tactually.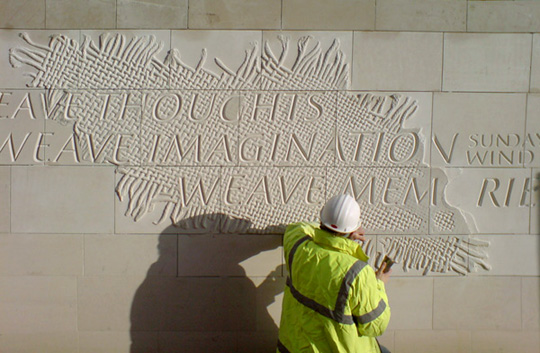 As well as Chelley McLear and Robbie Smyth (lettercarver and font designer, formerly of The Richard Kindersley Workshop) I worked closely throughout the project with The Borough Council, Consarc Architects and main contractor Patton Construction.