Public Art - Arundel Great Court, London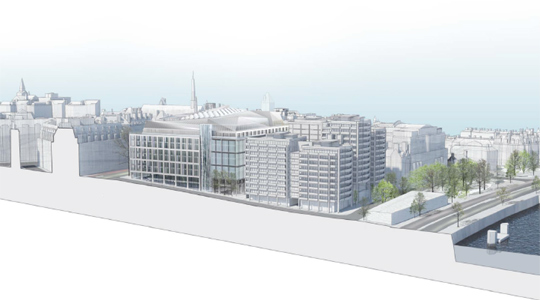 Arundel Great Court is a three acre site on the Thames Embankment. It is proposed as a complete redevelopment of the Embankment site.
Land Securities, who own much of the property around Westminster, are developing the site with proposals for a mix of offices, retail, hotel and residential facilities. Davidson Art Partnership, the arts consultants for the scheme, invited eight artists to develop an artistic vision for the space.
My involvement centred on the use of stone within the scheme and on developing artwork and architectural detail. It was an opportunity to engage my experience of stone and my passion for space and innovation.
I was interested in how people experience space and, by extension, the artworks within that space. In this instance the artworks are not objects sitting in isolation, but are an integral part of the building.
Horden Cherry Lee Architects, Wilkinson Eyre Artchitects and Townsend Landscape Architects were all involved in various aspects of the design of this project.