My approach

I work in a number of different areas - public art, lettering, restoration, design and private commissions - each of which informs the others. All are connected through a knowledge and understanding of stone as a material, from its geological formation right through to how it breaks under the chisel.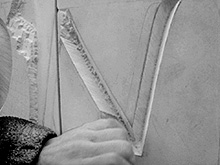 Stone is a material that is regarded as hard and stubborn. However, an understanding of the material allows a freedom in working so that the seemingly hard material becomes more malleable and plastic.
Every block of stone has both individual and generic properties that give it huge potential and possibilities. Part of my work is to allow this extraordinary potential and the integrity of the stone to emerge.
Working with traditional techniques as well as engaging creatively with new technologies can expand the limitations of stone. I enjoy finding ways of bridging the gap between technical possibility and artistic expression to bring something special and creative to a piece of work.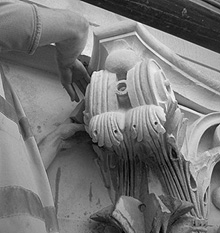 Restoration practices also inform my new work - not in a nostalgic way, but by providing a grammar with which to develop new ideas. Artworks in stone offer unique possibilities for both traditional settings and for our everyday built environment, extending into spaces such as pavements, gardens, walls, forests and fields; places where artworks in other media cannot easily reach, creating exciting accessibility that encourages the celebration of art in our daily lives.
Much of my work draws huge inspiration from working with other people. Held within the context and structure of my own practice, collaboration with other artists from diverse disciplines or with communities and clients becomes a mutual process of innovation that breathes new life, new ideas and creates inspiring results.